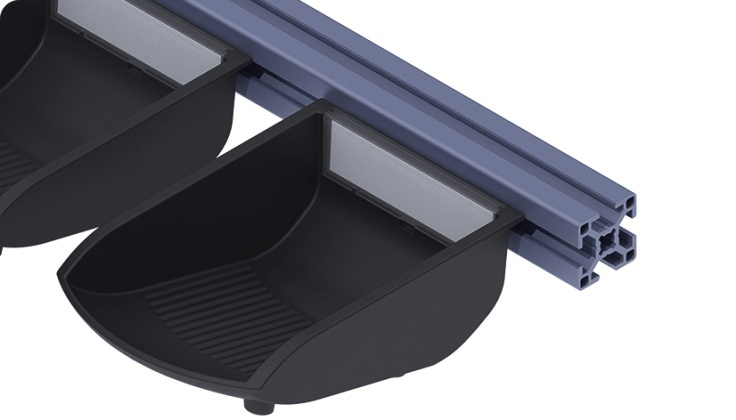 At the end of the year, you look back, reflect on the past and make new plans for the future. At FATH this means: New products.
As every year, we have again designed new innovative products to make everyday work easier and more productive. We focus on the optimization of already known systems as well as the creation of completely new lines.
FATH GRAB TRAYS
As specialists for ergonomic workstation systems, we have dedicated ourselves to improving grab tray systems. They significantly simplify material staging. This makes it possible to provide small parts at the workplace in a very ergonomic way. Our grab trays are easily hooked directly into the profile slot or are even more easily accessible using a swivel adapter with angle adjustment. The delivery includes a transparent cover window and a label for a clear overview and perfect organization.
Since expanding our range with grab trays in various sizes, shapes and colors, we can now meet even more of your ergonomic requirements. The slight ribbing of the removal surfaces makes it easier to grip individual small parts precisely and the marking field for inscription labels also helps to display the components and their properties quickly and clearly. All variants are of course also available in materials for ESD Workstations.
FATH SWIVEL AND FIXED CASTORS
"It just has to roll," you might think. While in the Stone Age one was still satisfied with the invention of an approximately round object, mechanical engineering today has higher standards. Rolling should be natural – and protect the floor, without high rolling resistance, if possible without leaving any track marks and with low rolling noise. 7 different treads and wheel bodies in 3 diameters offer you a choice for many requirements. In addition, FATH has reconsidered and improved the connection of the swivel and fixed castors to your aluminum profile.
With the adapter plates you mount the FATH swivel castors and fixed castors form-fitting to your profile system – both at the front and along the slot.
Newly designed roller housings are available for the most popular aluminum profiles with modular dimensions from 40 mm to 45 mm, which allow mounting without any overlap along the profile slot. All housings and adapter plates come from FATH in alu-colored powder coating, matching your anodized aluminum profile. No matter how heavy the load, our swivel and fixed castors keep their promises.
FATH 45° ANGLE CONNECTOR
Connecting two parts sounds simple. True to the motto, you can now do without the miter cut on the profile for support braces at an angle of 45°. With the 45° angle connectors from FATH you can build up brace connections quickly and reliably.
Retrofitting without miter cut in the profile was also important to us, which is why our 45° angle connectors are equipt with stable screw systems for subsequent mounting. This makes it easy to build stable support braces.
Thanks to our well thought out design, the 45° angle connector from FATH connects directly to standard profile systems. In addition to all metric modular dimensions 20 mm, 30 mm, 40 mm and 45 mm, we also cover the modular dimensions 1″ and 1.5″. And even rectangular cross-sections from 20 x 40 mm to 45 x 90 mm. Take a look for yourself.

Have we caught your interest? Then send us your inquiry via our contact form, by e-mail to info@fath.net or call us at +49 9175 7909 200

We look forward to talking to you!